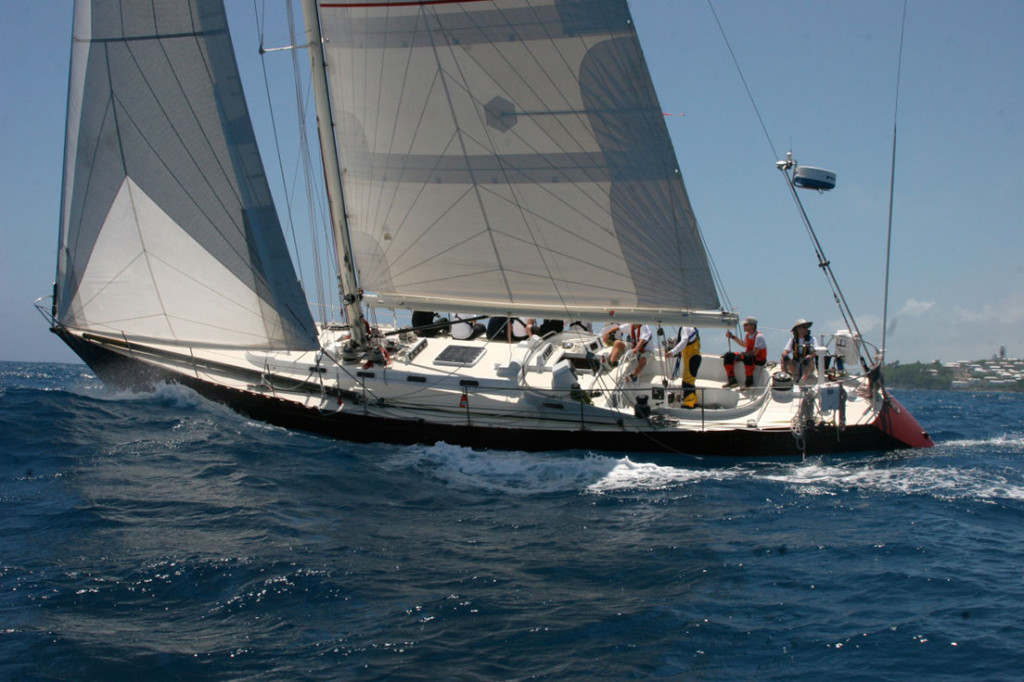 Aug 5th, 2014 : Mamaroneck, NY – Oceanie Sailing Foundation, Inc. today announced that it has added the historic 56-foot aluminum ocean racing vessel Flying Goose,  to its sail training fleet.
Flying Goose was designed and built in 1978 by Robert Derecktor as his personal yacht. A pioneer in aluminum boat building technology, Mr. Derecktor was a partner with Ted Turner in the construction of multiple Americas Cup sailboats, and was the original founder of Derecktor Shipyards, located in Mamaroneck, New York and Dania, Florida. He equipped Flying Goose with a retracting bulb keel, one of the first of its kind. She was completely refit in 2005.
Flying Goose was the inaugural vessel of the international Superyacht races called the "Bucket Regattas", having been one of the three vessels that made up the first race of what was called the "Nantucket Bucket" in 1982. The Bucket Regattas today sail out of NewPort and St. Barths with a fleet of over 30 boats ranging in size from 88 to over 216 feet.
Acquisition of Flying Goose was made possible through the generosity of Daniel van Starrenburg, avid sailor, accomplished racing skipper, and CEO of SavATree Corporation.
Hubert Charles Delany, Founder and and Acting Executive Director of Oceanie Sailing Foundation, said:
"Not only is Flying Goose an ideal vessel for sail training, her history and that of her creator, Bob Derecktor, epitomize the spirit of adventure and of innovative engineering that we hope to engender in our students.  I cannot express how grateful we are to Mr. van Starrenburg for making this acquisition possible. "
Oceanie Sailing foundation is a 501(c)(3) Non-Profit Sailing School that provides traditional sail training lessons and nautical-themed education programs to middle and high school students in the NY/NJ/CT Tri-State area. Its programs are designed to improve leadership, social and interpersonal skills as well as self-confidence, through team building experiences and sailing. In addition to conducting its own programs, OSF works in partnership with other nautical youth programs including the Young Mariner's Foundation of Stamford, CT.
OSF will begin using Flying Goose for sail training classes in Stamford, CT. and New York City starting in the spring of 2015.